Songs of Joy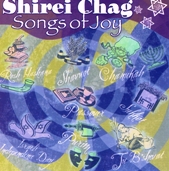 Chag Sameach uMoadim L'simcha! Happy Holiday and Time to Rejoice!
The Jewish calendar is punctuated by the cycle of holidays throughout the year. Whether it is the High Holy Days, the three major festivals or the minor historical holidays, there are always songs that enliven and enrich our celebrations. It is my hope that this recording will serve as an educational tool to increase your familiarity, participation, and enjoyment throughout the year. This CD was inspired by all of the children at Temple Sinai who love to sing, and is intended to bring their enthusiasm into your homes and the Temple Sinai community. May these songs bring you and your families seasons of joy.
To hear music from Shirei Chag: Songs of Joy, click on the songs below:
Rosh Hashana
Bim Bom Shana Tova - Nachum Frankel
L'shana Tova - Traditional
Apples and Honey - Folk

Yom Kippur
Let's be Friends - Folk

Sukkot
To the Sukkah - Folk
Mah Yafah HaSukkah - Folk
Ufros Aleinu - Unknown
Ufaratzta - Chassidic
Chag Sameach - Folk

Simchat Torah
Torah Lee - Steven Carr Reuben
Torah Tziva Lanu - Folk
Al Sh'losha D'varim - Chaim Zur
Yisrael V'oraita - Folk

Hanukkah
I have a little Dreidl - S.E. Goldfarb & S.S. Grossman
Oh Channukah Oh Channukah - Folk
Channukah Channukah - Folk
S'vivon - Folk
I'd like to be a Maccabee / Judah the Maccabee - Sydney Akselrad / Folk
Lots of Latkes - English Folk Song arr. Allen Leider

Tu B'shevat
The Almond Tree - M. Ravina & M. Dushman
Olive Trees are Standing - Folk
What is done on Tu B'shevat - Folk
Let's Go Plant Today - Unknown arr. Stephen Richards
I am Standing like a Tree - Betsy Rose

Purim
Chag Purim - Folk
Purim Game (Tumbalalaika) - Folk
A Wicked Wicked Man - Folk
Nosh Nosh - Folk
My Hat has 3 Corners / LaKova Sheli - Folk / Folk
My Name is Purim - Folk
All Aboard for Shushan - Folk

Passover
Baby Moses - Folk
Building Cities - Shirley Cohen
Go Down Moses / Oh Listen King Pharoah - Spiritual / Shirley Cohen
One Morning - Shirley Cohen
Dayeinu - Folk
Bake a Matzah - Ben Aronim & Hyman Reznick arr. F. Piket
Simcha Rabah - Folk

Yom Haatzmaut
Am Yisrael Chai - Shlomo Carlebach / Seymour Rockoff
Zum Gali Gali - Folk

Shavuot
Chag Shavuot - Steven Carr Reuben
Saleynu - Folk
V'zot HaTorah - D. Lefkowitz
V'zot HaTorah - Jeff Klepper
Shalom...Tree of Life - Richard Silverman
Fri, August 14 2020
24 Av 5780
Connect on Facebook
Stream our Shabbat services here through
You do not need a Facebook account to join streamed services.
You can also view Shabbat services on vimeo.
Fri, August 14 2020 24 Av 5780